Brainfeed user interface was designed to encourage exploration. For this reason we have kept the onscreen startup instructions to a minimum and encourage users to naturally find their way through the user interface. :)

If you want to know more about Brainfeed's special controls, well, you are in the right place.

http://brainfeed.org/wp-content/uploads/2014/03/screenshots1.jpg

Brainfeed Menu
Brainfeed Menu can be opened and closed by pressing the 3 hash marks button in the upper right.
The  Menu button pressed again will close the menu.
The menu can also be closed by pressing anywhere in the video grid.


Categories and Subcategories
The Brainfeed Menu is separated into main categories and subcategories.  
Tap on any category heading to open the subcategories menu, and tap again to close. 


Changing Subcategories
To move between subcategories, you can either:

use the side menu
swipe the video grid left or right with a swiping motion
on the colored title bar, press the next or previous subcategory name or the small arrows.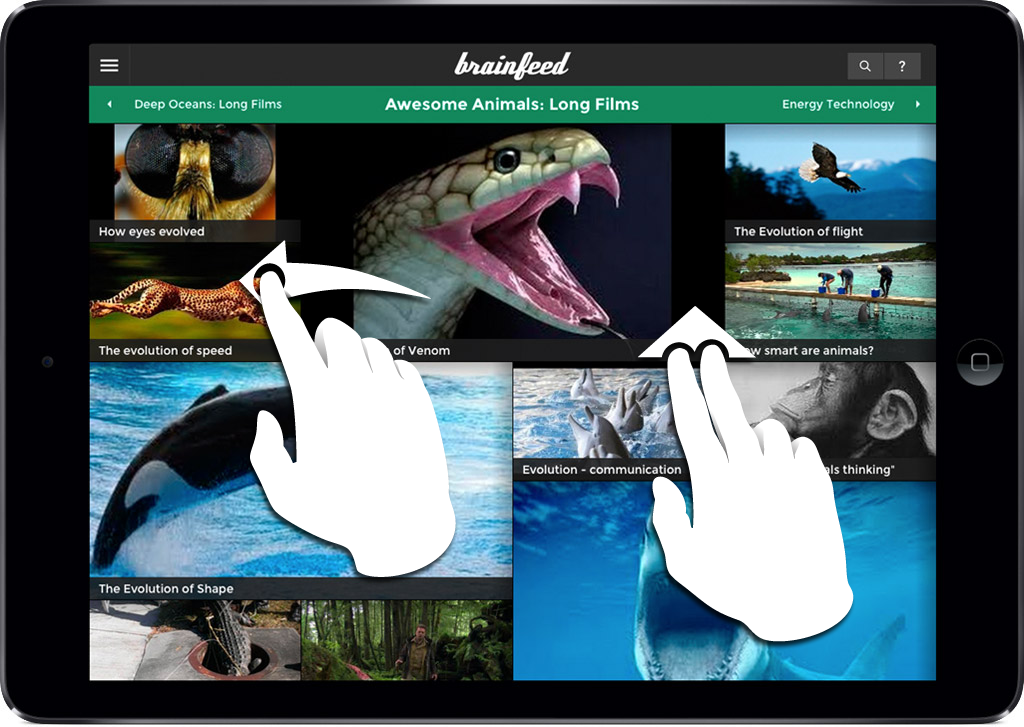 Player Window
When the player window is open you can:

control the video with video controls on the video player
pinch open the video screen to  switch to fullscreen. pinch closed to return to the player window
finger scroll up and down the filmstrip to select another video in the subcategory
swipe up/down in the video window to change to the next/previous video in the subcategory
use the small arrows next to the SAVE FOR LATER button to change to the next/previous video in the subcategory
press the menu button and choose another category/subcategory
use the share buttons to tell a friend about a great video you found on Brainfeed

Open a Video
Tap on a video in the grid to open the player window.


Save For Later Button (Subscription Users Only)
Subscribed Users can save videos to watch later by pressing the "Save for Later" button.
Saved videos will be saved and are available to watch in the category "Your Brainfeed"  in the subcategory "Save for Later."

Airplay Support
When playing a video tap the airplay icon in the lower left of the video player to watch your video on your Apple TV or other airplay supported device.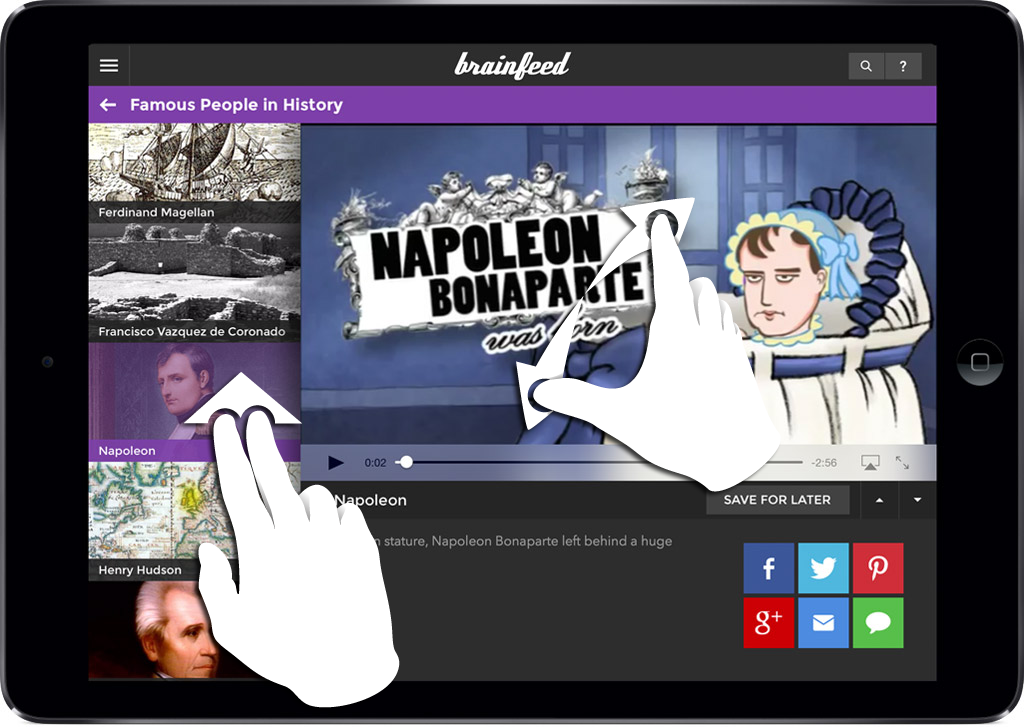 Search
Searching the titles and descriptions of all videos is available by pressing the magnifying glass in the top right corner of the app.


Support and Contact

You can always reach us and share your ideas in the Feedback and Ideas portal by pressing the question mark in the top right corner of the app.